| | | | |
| --- | --- | --- | --- |
| Basic information | Asma Jahangir | Bhagat Singh | Naimat-ul-Allah Khan |
| Nationality | Pakistani | Pakistani | Pakistani |
| Date of Birth | 27th January 1952 | 1907 | 1st October 1930 |
| Place of Birth | Lahore, Punjab, Pakistan | Banga, Punjab, British India (Currently in Pakistan) | Ajmer, British India (currently in India) |
| Date of Death | 11th February 2018 | 23rd March 1931 | 25th February 2020 |
| Place of Death | | | Karachi, Sindh, Pakistan |
| Age | 66 years old | 23 years old | 89 years old |
| School / College | N / A | D.A.V. High School, Lahore, National College, Lahore | N / A |
| University | Punjab University (LL.B.), Kinnaird College (BA) | N / A | University of the Punjab, Lahore, Karachi University, Karachi |
| Career | 1980 – 2018 | 1928 – 1931 | 1985 – 2005 |
| Status | Philanthropist, Human Rights | Philanthropist, Human Rights | Politician |
| Spouse | Tahir Jahangir | N / A | N / A |
| Famous for | Philanthropist, Human Rights, and Women rights | Indian Independence movement | Chairman of Al-Khidmat foundation |
| Different Posts / Organizations | Head of Human Rights Commission of Pakistan (1987 -2011), President of Supreme Court Bar Association of Pakistan (2010 – 2012), United Nations Special Rapporteur for Human Rights in Iran (2016 – 2018) | Hindustan Socialist, Republican Association Workers and Peasants Party, Nau Jawan Bharat Sabha | 26th Mayor of Karachi |
| Awards | Hilal-e-Imtiaz (2010) Martin Ennals Award (1995) Ramon Magsaysay Award (2005) Leo Ettinger Award (2002) Four Freedoms Award (2010) Right Livelihood Award, United Nations Prize in the Field of Human Rights (2018) Nishan-e-Imtiaz (2018) (Posthumously) | N / A | N / A |
Asma Jahangir:
Asma Jahangir was a social activist, lawyer, and chaired the Human Rights Commission of Pakistan. She was famous for the department of the lawyer because she has actively participated in the lawyers' Movement. She served as the United Nations Special Rapporteur on the Freedom of the Religion and she also believes that the trustee at the International Crisis Group.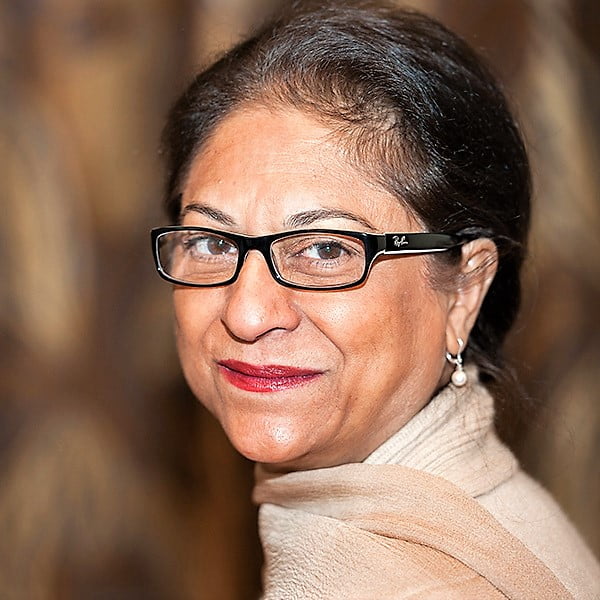 Born and education:
Asma Jahangir was born in Lahore on 27th January 1952. She got her early education from the local school in the Lahore. After getting an education from the school, she got an education from the Kinnaird College, Lahore in B.A. She got an education from Punjab University in 1978 and completed her LLB. She did protest at a very young age against the military government. She and her father were opposed to dictatorship[1].
First law Women association:
Asma Jahangir and her 3 fellows made an association with the name of AGHS Law associates, which was the first association laid by the women in Pakistan. She was against the discriminatory laws and defend the disadvantages. Asma Jahangir supported the Women's Action Forum (WAF), a group formed by the 4 persons against the laws of the Pakistani laws[1].
In 1983, Asma Jahangir protest against the Zia-ul-Haq decision in Lahore to impose the religious laws. In that protest, there were many persons beaten by the Police and tear-gassed and arrested by the police. Unfortunately, in the same year, a 13-year-old girl was been raped by the employers which are called Zina (Fornication) and it had been sentenced to about 3 years of custody and beating. The decision was toppled following the fights. In this manner, Jahangir was put under house capture and afterward detained for contradicting Zia's Islamization strategy[1].
Public basic freedom's organization:
As Pakistan comes up short on a public basic freedom's organization, Jahangir was one of the originator individuals from the Human Rights Commission of Pakistan, an autonomous NGO, which was set up in 1986. She filled in as both Secretary General and Chairperson of this prominent establishment, which advances and shields common liberties in Pakistan, just as observing basic freedoms infringement. The Commission has taken up disagreeable issues including savagery against ladies, honor-executing, the abolishment of the death penalty, and strict viciousness[1].
Jahangir was a solid defender of securing the privileges of aggrieved strict minorities in Pakistan and stood up against constrained changes. In 1995, after she had shielded a 14-year old Christian kid – Salamat Masih, blamed for profanation and condemned to death – a crowd outside the Lahore High Court crushed her vehicle window and attacked her driver. Jahangir and her family have been assaulted, abducted, had their home broken into, and got demise dangers from that point forward. Jahangir and her group kept on chipping away at the case and Salamat Masih was cleared[1].
Giving free legitimate guide and propelling ladies' privileges:
Since 1986, Jahangir and her partners at AGHS' Legal Aid Cell, have taken on a few cases including ladies, kids, and reinforced workers. It additionally settled a sanctuary for ladies, called 'Dastak'. Dastak is currently a free trust run together by common society associations in Pakistan[1].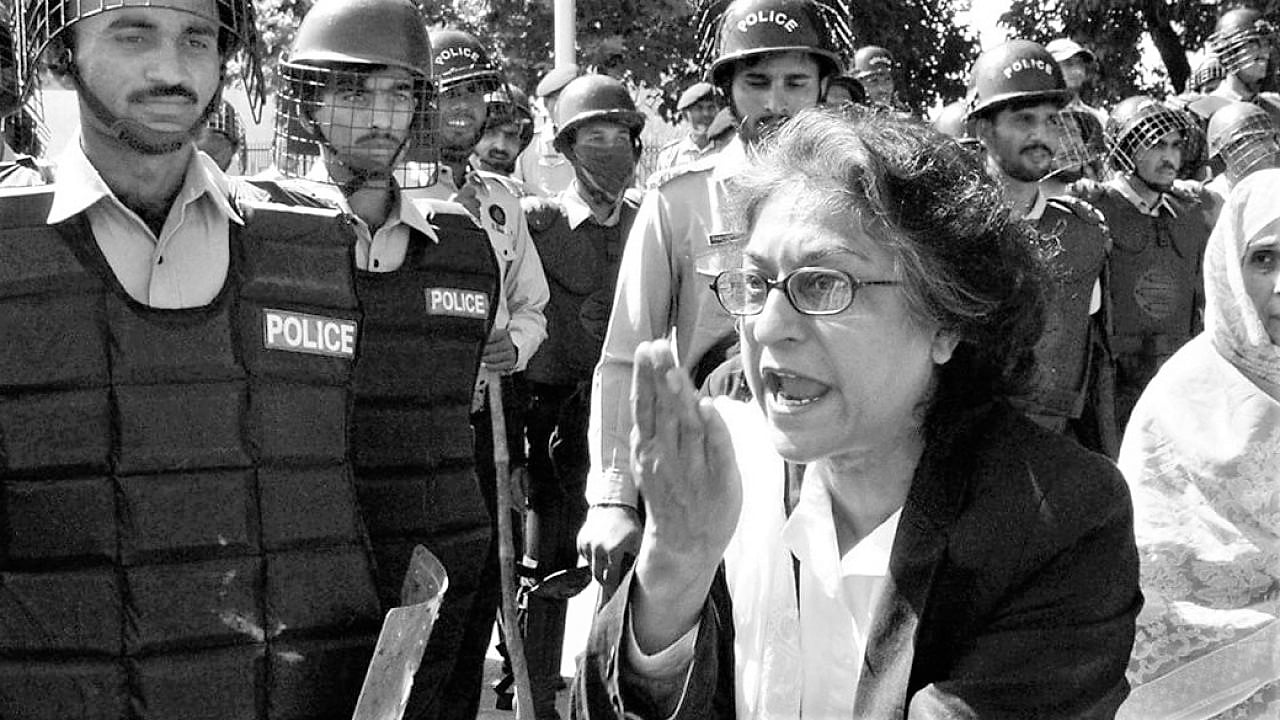 Lahore High Court decision:
In 1996, the Lahore High Court decided that a grown-up Muslim lady couldn't get hitched without the assent of her male gatekeeper. Ladies who picked their spouses freely could be compelled to invalidate their relationships and Jahangir, who now and again took on such cases, featured the repercussions. She has had the option to make sure about the delivery from jail of a few ladies blamed for infidelity or "unethical" sexual conduct[1].
Following Dastak:
In 1999, Jahangir took up the instance of Saima Sarwar, who was given asylum at Dastak after leaving her significant other and looking for separation. Sarwar was in this way killed in a demonstration of honor-slaughtering that occurred in Jahangir's workplaces, featuring the huge dangers engaged with taking on such cases in Pakistan[1].
Sexual orientation:
In May 2005, Asma Jahangir assisted with sorting out a representative blended sexual orientation long-distance race in Lahore to bring issues to light about brutality against sports ladies by strict fanatics. Islamist bunches equipped with guns, cudgel, and Molotov mixed drinks brutally restricted the occasion, and Jahangir was openly beaten, stripped, and kept by the police[1].
Legal Advisor:
In November 2007, Asma Jahangir was, one of 500 legal advisors, resistance government officials and common liberties activists kept when President Musharraf pronounced a highly sensitive situation. She stayed under house capture for a quarter of a year[1].
Global work and different accomplishments:
Other than her work in Pakistan, Asma Jahangir has advanced basic liberties globally through her long help with the United Nations. She was UN Special Rapporteur on Extrajudicial, Arbitrary or Summary Executions from 1998 to 2004, and UN Special Rapporteur on Freedom of Religion and Belief from 2004 to 2010[1].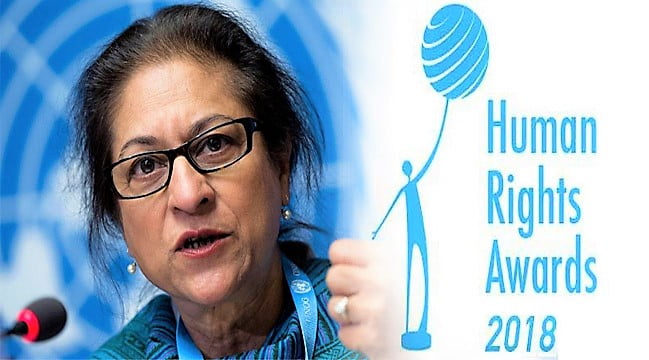 Books:
Jahangir has composed two books: Divine Sanction? The Hudood Ordinance and Children of a Lesser God: Child Prisoners of Pakistan. She has gotten various honors including the Martin Ennals Award for Human Rights Defenders and the Ramon Magsaysay Award, both in 1995, and the pined for Hilal-e-Imtiaz which is the second most noteworthy regular citizen grant and honor given by the Government of Pakistan – in 2010. The regard in which Asma Jahangir was held among her kindred legal advisors in Pakistan is proven by her political decision as to the main female President of the Supreme Court Bar Association, the zenith assemblage of legal counselors in Pakistan, in 2010[1].
Bhagat Singh:
Bhagat Singh is known to be one of the most powerful rebels of the Indian Nationalist Movement. He was involved with numerous revolutionary organizations and he played an important role in the Movement of Indian National Movement. He was a martyr at the age of 23 years. There were many supporters of Bhagat Singh which called him "Shaheed" (martyr) on 23rd March 1931[2].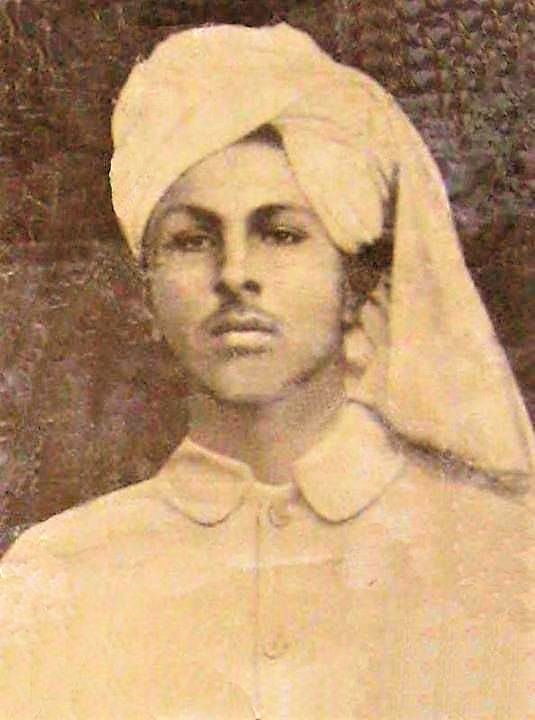 Early life and Childhood:
Bhagat Singh was born on 28th September 1907 in Lyallpur district (currently in Pakistan) to Kishan Singh and Vidyvati. At that time, his father and uncle were in jail due to the establishment of Bill's implementation in the year of 1906. His uncle of named Sardar Ajit was an advocate of the Indian Patriots Association which was established by him. He got the support of a poor farmer which was his friend at that time, Syed Haider Raza, against the Chenab Canal Colony Bill. Ajit Singh had about more than 22 cases that were against him and he was a force to go to Iran. His family was the supporter of the Ghadar Party and the politically conscious environment at the home helped by the sense of patriotism in the heart of Young Bhagat Singh[2].
The intimate life of Bhagat Singh:
He got his studies at 5th class in the village local school after that his father took him into the Dayanand Anglo Vedic High School, Lahore. At an extremely youthful age, Bhagat Singh began following Non-Cooperation Movement, started by Mahatma Gandhi. Bhagat Singh had straightforwardly opposed the British and had followed Gandhi's desires by consuming the administration supported books. He even left the school to enlist at the National College in Lahore. Two occurrences during his high schooler days molded his solid devoted standpoint – the Jallianwala Bagh Massacre in 1919 and the killing of unarmed Akali nonconformists at the Nankana Sahib in 1921. His family had faith in the Gandhian philosophy of peaceful way to deal with accomplish Swaraj and for some time Bhagat Singh likewise upheld the Indian National Congress and the causes behind the Non-Cooperation Movement. Following the Chauri Chaura Incident, Gandhi required the withdrawal of Non-Cooperation development. Discontent with the choice, Bhagat Singh, secluded himself from Gandhi's peaceful activity and joined the Young Revolutionary Movement. Accordingly started his excursion as the most noticeable promoter of rough rebellion against the British Raj[2].
He was seeking after B.A. assessment when his folks intended to have him hitched. He eagerly dismissed the proposal and said that, if his marriage was to occur in Slave-India, my lady of the hour will be just passing. [2]"
In March 1925, motivated by European patriot developments, the Nau Jawan Bharat Sabha was shaped with Bhagat Singh, as its secretary. Bhagat Singh likewise joined the Hindustan Republican Association (HRA), an extreme gathering, which he later rechristened as the Hindustan Socialist Republican Association (HSRA) alongside individual progressives Chandrashekhar Azad and Sukhdev. He got back to his home in Lahore after confirmations from his folks that he would not be constrained to get hitched. He set up contact with the individuals from the Kirti Kisan Party and began contributing routinely to its magazine, the "Kirti". As an understudy, Bhagat Singh was a devoted peruse and he would peruse up about European patriot developments. Motivated by the works of Friedrich Engels and Karl Marx, his political belief systems came to fruition and he turned out to be more disposed towards a communist methodology. He likewise wrote in papers like "Veer Arjun" "under a few pen names[2].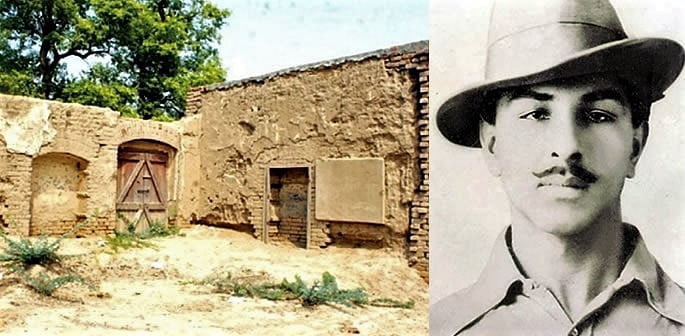 The General Movement and innovative actions:
In the initial stages, Bhagat Singh's activities were much limited to writing the articles against the British Government, print them and dispense the leaflets demarcation principles of a forceful rebellion which purpose to target the Government. Thinking about his impact on the young, and his relationship with the Akali development, he turned into an individual of enthusiasm for the government. The police captured him in a bombarding case that occurred in 1926 in Lahore. He was delivered 5 months after the fact on a 60,000 rupees bond[2].
On 30th October 1928, Lala Lajpat Rai drove an all-parties parade and walked towards the Lahore railroad station to challenge the appearance of the Simon Commission. The police turned to a severe lathi-charge to defeat the headway of the nonconformists. The encounter left Lala Lajpat Rai with extreme wounds and he capitulated to his wounds on November 17, 1928. As retribution for the demise of Lala Lajpat Rai, Bhagat Singh and his partners plotted the death of James A. Scott, the Superintendent of Police, accepted to have requested the lathi charge. The progressives, mixing up J.P. Saunders, an Assistant Superintendent of Police, like Scott, slaughtered him. Bhagat Singh immediately left Lahore to get away from his capture. To dodge acknowledgment, he shaved his whiskers and trim his hair, an infringement of the consecrated precepts of Sikhism[2].
In light of the detailing of the Defense of India Act, the Hindustan Socialist Republican Association wanted to detonate a bomb inside the gathering premises, where the statute would have been passed. On 8th April 1929, Bhagat Singh and Batukeshwar Dutt tossed a bomb onto the passages of the get-together, yelled 'Inqilab Zindabad!' and tossed handout delineating their message into the air. The bomb was not intended to slaughter or harm anybody and, in this manner, it was discarded from the jam-packed spot, yet at the same time a few gathering individuals were harmed in the upheaval. Following the impacts both Bhagat Singh and Batukeshwar Dutt pursued capture[2].
1929 Assembly Incident Trial:
The sensational showing of dissent was met with inescapable reactions from the political field. Singh reacted – "Power when forcefully applied is 'brutality' and is, hence, ethically outlandish, however when it is utilized in the assistance of a real reason, it has its ethical avocation." [2]
Preliminary procedures were initiated in May where Singh looked to guard himself, while Batukeshwar Dutt was spoken to by Afsar Ali. The court decided for lifelong incarceration referring to the malignant and unlawful goal of the blasts[2].
Lahore Conspiracy Case and Trial:
Not long after the condemning, the police struck the HSRA bomb plants in Lahore and captured a few noticeable revolutionaries. Three people, Hans Raj Vohra, Jai Gopal, and Phanindra Nath Ghosh turned approver for the Government which prompted a sum of 21 captures including those of Sukhdev, Jitendra Nath Das, and Raj guru. Bhagat Singh was re-captured for the Lahore Conspiracy case, the murder of Assistant Superintendent Saunders, and bomb producing[2].
Preliminary began against 28 denounced in a unique meeting court directed by Judge Rai Sahib Pandit Sri Kishen, on 10th July 1929. Then, Singh and his kindred detainees announced an uncertain craving strike in dissent of the biased distinction in the treatment of the white versus local detainees and requested to be perceived as 'political detainees'. The yearning strike got huge consideration from the press and assembled significant public help for their requests. The demise of Jitendra Nath Das, following 63 days in length quickly, prompted the negative general assessments increasing towards the specialists. Bhagat Singh, at last, broke his 116-day quick, on solicitation of his dad and Congress authority, on 5th October 1929[2].
Inferable from the moderate movement of the lawful procedures, an exceptional council comprising of Justice J. Coldstream, Justice Agha Haider, and Justice G. C. Hilton was set up on the orders of the Viceroy, Lord Irwin on 1st May 1930. The council was enabled to continue without the presence of the blamed and was an uneven preliminary that barely clung to the typical lawful rights rules[2].
The court conveyed its 300-page judgment on 7th October 1930. It announced that obvious verification has been introduced affirming the association of Singh, Sukhdev, and Raj guru in the Saunders murder. Singh admitted to the homicide and offered expressions contrary to the British principle during the preliminary. They were condemned to be hanged till death. [2]
Execution
On 23rd March 1931, 7:30 am, Bhagat Singh was hanged in Lahore Jail with his friends Raj guru and Sukhdev. It is said that the triplet continued brightly towards the scaffold while reciting their preferred trademarks like "Inqilab Zindabad" and "Down with British Imperialism". Singh and his companions were incinerated at Hussain Wala on the banks of Sutlej River[2].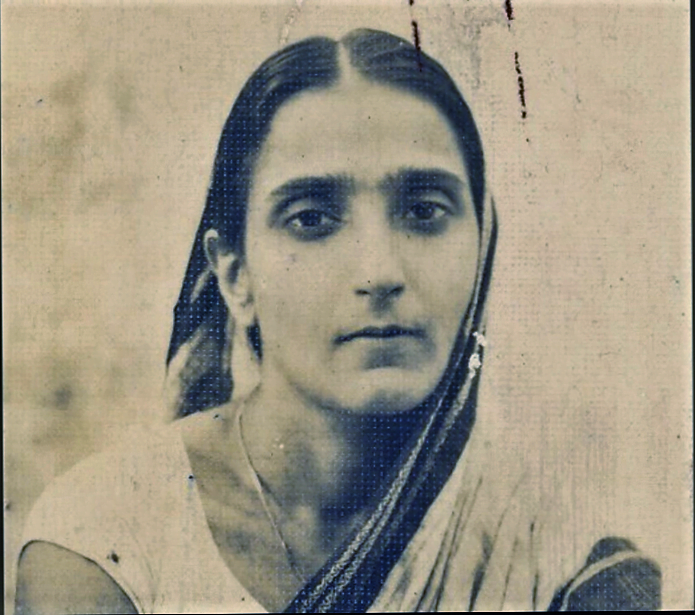 Bhagat Singh's Thoughts and Opinions:
From an exceptionally youthful age, enthusiasm had taken its seed in Bhagat Singh's still, small voice. He grew up to acknowledge patriotism and need a without British autonomous India. Broad perusing of European writing pushed him towards framing a communist viewpoint unequivocally wanting a vote-based future for his cherished nation. Albeit brought into the world a Sikh, Bhagat Singh veered towards Atheism in the wake of seeing a few Hindu-Muslim mobs and different strict episodes. Singh accepted that something as valuable as Independence must be accomplished by an intensive purging of the exploitative idea of government. He thought that such change must be brought forward by methods for an outfitted transformation, incomparable lines to the Bolshevik Revolution in Russia. He presented the trademark "Inqilab Zindabad" which kind of changed into the rallying call of the Indian Independence development[2].
Admiration and Heritage:
Bhagat Singh, his extreme nationalism combined with developed vision, made him an ideal symbol for the young people of his age. Through his composed and vocal exhortation of the British Imperial Government, he turned into the voice of his age. His passionate takeoff from the Gandhian peaceful course to Swaraj has regularly been reprimanded by many, yet through the bold grasping of affliction, he propelled several teenagers and adolescents to join the opportunity battle wholeheartedly. His prominence in current occasions is obvious from the way that Bhagat Singh has cast a ballot as the Greatest Indian, in front of Subhash Chandra Bose and Mahatma Gandhi, in a survey directed by India Today in 2008[2].
Bhagat Singh in Popular Culture:
The motivation that Bhagat Singh lights inside the spirit of Indians can be felt in the notoriety of the movies and dramatic transformations on his life. A few movies like "Shaheed" (1965) and "The Legend of Bhagat Singh" (2002) were made on the life of 23-year old progressive. Famous melodies like the "Mohe rang de Basanti Chola" and "Sarfaroshiki Tamanna" related with Bhagat Singh are as yet important in rousing devoted feelings in the Indians. Various books, articles, and papers have been expounded on his life, belief systems, and heritage. Bhagat Singh is very famous via web-based media locales too. On the video-sharing site YouTube, you can discover a few recordings, including Life Story of Bhagat Singh, on the life of the troublemaker progressive[2].
Naimat-ul-Allah Khan:
Naimat-ul-Allah was born on 1st October 1930 in Ajmer, Rajasthan, British India. His father's name was Abdul Shakoor Khan who was a postmaster and Bismillah Begum was the mother. He was the third child of his parents. At first, they had only two daughters and two younger brothers. His father died due to tuberculosis in 1940. After that, the family moved to Shahjahanpur, Uttar Pradesh, British India to live life with the motherly relations family. After the creation of Pakistan, they moved to Pakistan to live their life there till the last senses[3].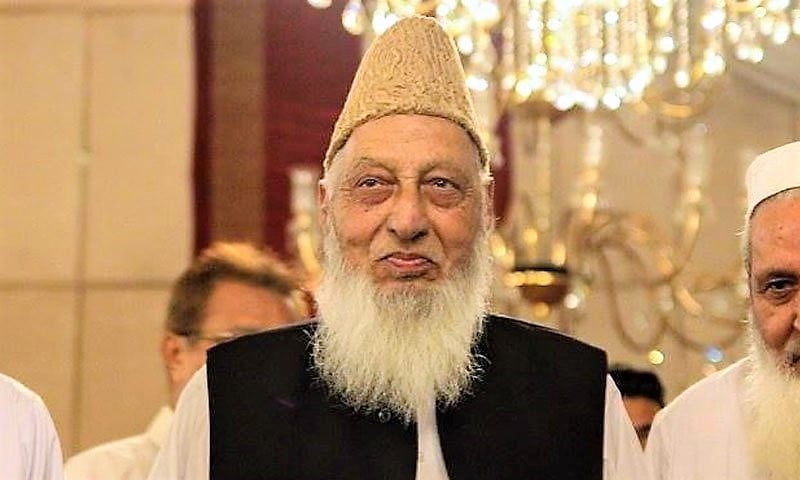 Education:
He got his education from the Punjab University, Lahore. But his family was not literate, and due to poverty, the whole family responsibilities on him. Due to these reasons, he only gave the papers but no attend the classes regularly at the University. The main part of the career was the job career when he was working as a stenographer for Jamshed Nusserwnaje Metha, Metha was the 1st Mayor of the Sindh who purchase the Board when Khan worked as his stenographer[3].
Naimat-ul-Allah Khan became the Mayor of Karachi, he did his intermediate, B.A, and double M.A in Journalism and Persian and LLB. After that, he started working as a lawyer and he was very sad because his sister died at a very young age[3].
Entering to Politics:
Naimat-ul-Allah Khan was always inspired by the books of Maulana Maududi who was the founder of jamaat-e-Islami. He entered the politics soon in the 1960s when he arranged a program at his own house. He joined the party while he was doing Hajj at Makkah[3].
Naimat-ul-Allah Khan in Jail:
Naimat-ul-Allah Khan was jailed due to the Rally in Karachi, was jailed in Sukkur. There was not allowed to do a rally in the public gathering during the regime of Prime Minister Zulfiqar Ali Bhutto. He spent 3 months in jail[3].
Naimat-ul-Allah Khan refuses to become Mayor of Karachi:
Khan was the topmost competitor to turn into the city hall leader of Karachi. Referring to private matters Khan would not take the workplace. Khan around then had nine children the vast majority of whom were youthful. Khan understood his kids were excessively youthful for him to take such a significant job. As his substitution, Abdul Sattar Afghani was made the civic chairman who served in the limit until 1987 in the wake of getting reappointed in 1983[3].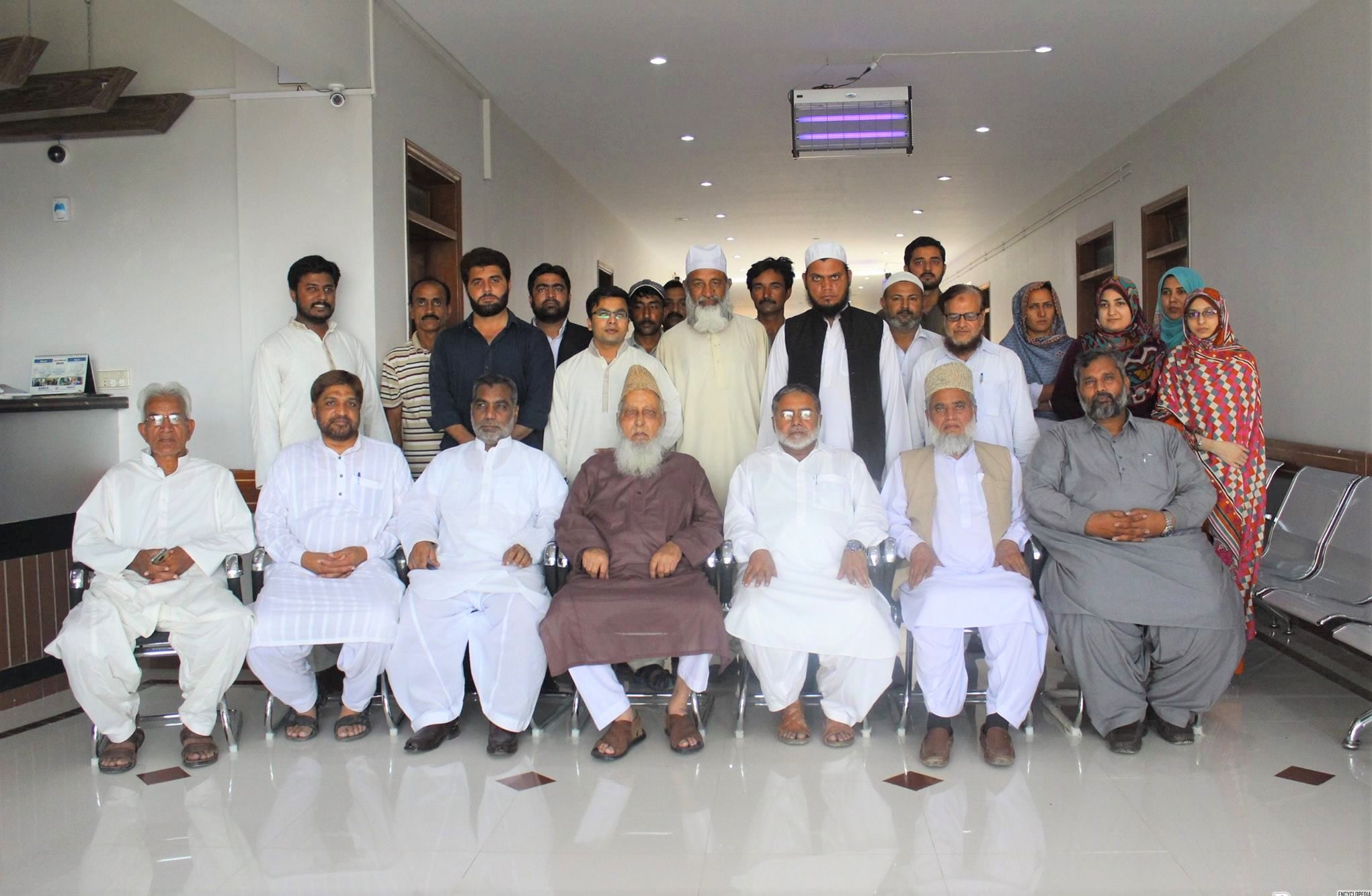 In-Office:
Member of Sindh Assembly:
Nonpolitical decisions were held in 1985 and Khan won the PS-81 electorate from Karachi. He in this manner turned into the Leader of Opposition of the Sindh Assembly from 1985–88. President Zia-ul-Haq was executed in a plane accident in 1988 and all the overarching congregations were broken up[3].
Ameer Jamat-e-Islami Karachi:
Khan later turned into the Jamaat-e-Islami Ameer of Karachi in 1990. He served in this limit until 2001 when he needed to leave to take the workplace of the Mayor of Karachi. Meanwhile, Khan likewise resigned from his law practice in 1991 following a 34-year vocation[3].
Mayor leader of Karachi:
He was the first Nazim of Karachi after the devolution plan. He has a place with Jamaat-e-Islami being motivated by the musings of Abul Aala Maududi and Naeem Siddiqui. Naimatullah Khan was chosen City Nazim (Mayor) in 2001. Nematullah Khan accomplished to get a measure of Rs.2900 Million for the recreation of Karachi, city gathering passed different undertakings, for example, 18 flyovers, six underpasses, two sign free streets, and enormous water gracefully plot for the individuals of Karachi. It was the first time throughout the entire existence of Karachi that all the partners in Karachi were joined for the formative works in Karachi. the Karachi advancement plan involves signal-free principle streets, many flyovers underpasses, and the substitution of water and sewerage lines[3].
Perspectives on Ex-Governor Sindh Dr. Ishrat-ul-Ibad Khan about Naimatullah Khan:
"I want to give today's representative an example of an honest and visionary mayor Naimatullah Khan with whom I have worked. He was my senior, with his master plans he played a vital role in the development of Karachi, but later his successors disappointed the city," [3]
he stated, in a hidden reference to Syed Mustafa Kamal, who remained civic chairman of Karachi after Naimatullah Khan from 2005 to 2010. [3]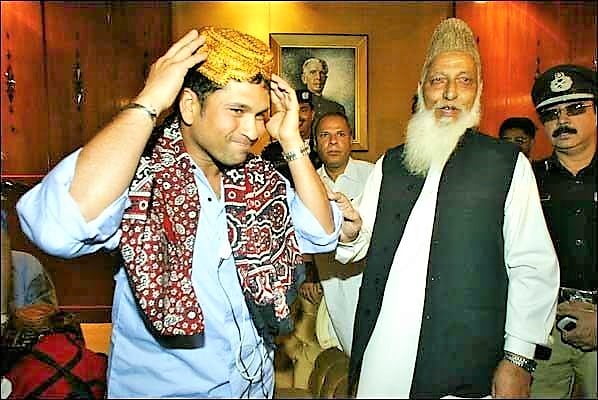 Charity Work:
After retirement from the politics in 2005, he joined the office of the President of Alkhidmat Foundation as an NGO. He served there till 2011 when he was ill, he was definite to look after the South area of Alkhidmat foundation. He has lengthily functioned in the Thar area of Pakistan Since 1997 and frustrating to fetch the zone out of the difficulties such as the water shortage and the illiteracy[3].
Death:
He died on 25th February 2020 in the capital city of Sindh, karachi, Pakistan.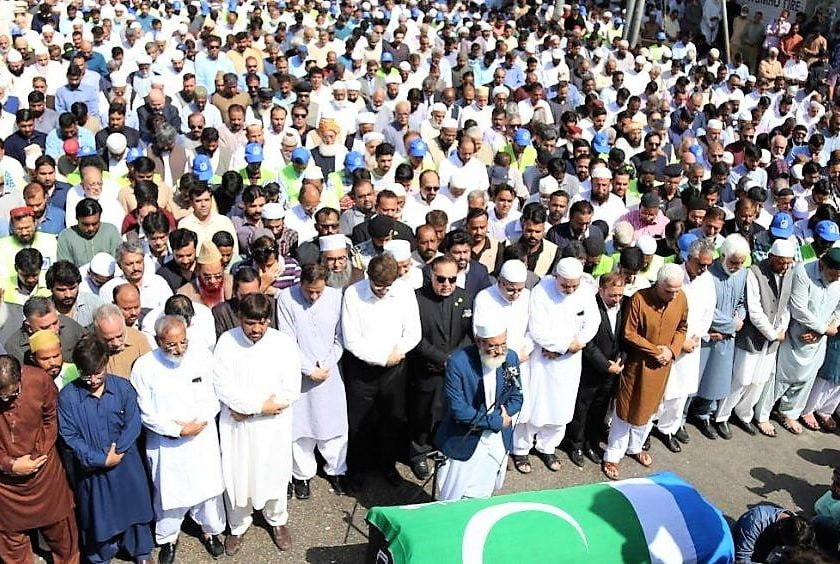 References:

1.            rightlivelihoodaward. 12th October 2020; Available from: rightlivelihoodaward

2.            culturalindia. 12th October 2020; Available from: culturalindia

3.            pakpedia. 12th October 2020; Available from: pakpedia

"article">