Basic information about Karnal Sher Khan Shaheed
| | |
| --- | --- |
| Date of Birth | 1st January 1970 |
| Place of birth | Sawabi Nawan Killi, Khyber PakhtunKhwa |
| Cause of Death | Kargil battle |
| Early education | Native city (of his aunt) |
| Higher education | Pakistan Air force |
| Vigorous | Captain |
| Component | 27 Sindh Regiment 12 Northern Light Infantry |
| Adherence | Pakistan |
| Services | Pakistan Army |
| Awards | Nishan-e-Haider |
| Death & place | 5th July 1999 |
| Buried | Karnal Sher Khan Kallay (known as Naway Kallay) |
Introduction:
Karnal Sher Khan was born in "Nawan Killi" on 1st January 1970. He was a Pakistan Army Officer[1]. He was one of them officers who got a "Nishan-e-Haider. He lived in "Sawabi", in a new village "Nawan Killi" which means "New Village". He completed his education from his former village "Nawan Killi" and did his intermediate from "Government College Sawabi". Then he joined the "Pakistan Air Force" as an airman, he got training from "PTTS (Pre-trade-training School)". An institute that produces two Sher's and awarded them with "Nishan-e-Haider"[2].
After his martyred, his village name becomes "Karnal Sher Killi (Karnal Sher Khan's Village)". He was the youngest among his two brothers and two sisters. He was about 8 years when His mother died. His aunt takes him to her home and takes care of him. Her family was so religious and said that "Sher Khan" will become the strong personification of Islamic teaching[2].
He was killed in the Kargil battle, for his bravery during the Kargil battle, he was awarded by the "Nishan-e-Haider". It was the highest military award "Nishan-e-Haider" from Pakistan Army [1].
Early Life of Karnal Sher Khan:
"Karnal Sher Khan" was born in "Nawan Kallay, Sawabi, Khyber Pakhtunkhwa" on 1st January 1970. He completed his early education from the former village and after his mother's death, her aunt takes him to her home. There he did intermediate from "Government College", later he joined the "Pakistan Air Force" as airman. After that, he became a "Commission Officer" in 1992[1].
Respect from India:
The opposite Indian Army gave great respect to "Karnal Sher Khan Shaheed" due to his bravery and continuous battle. In Kargil's battle, there was a conflict between India and Pakistan in 1999, and one of the best Pakistan Army was Karnal Sher Khan Shaheed. Karnal Sher Khan was martyred during the battle while he was going upward to the Indian Post. He and his teammates take a lot of area from India in the battle of Kargil, but his life was such that he cannot take one more step and was martyred. This honor was possible due to the Indian army bullets. He got the award of "Nishan-e-Haider" from the Pakistan Army[3].
Brigadier M.P.S Bajwa was leading the 192 Bridge of Mountain. Brigadier Bajwa was very influenced by his bravery that he fought in such away. He wrote some citation in his pocket while he was martyred. The citation was over the body of which he recognized[3].
Tiger Hill battle:
Brig. Bajwa said that they had an important task to capture the strategic importance of Tiger Hill. Brig. Bajwa had nominated the responsibility to 18 Grenadiers of which Bajwa was already involved in the battle had been endured about 60 dead[3]. He and his Platoon defended the five posts which were built at the height of about 17,000 feet[4]. About 8th battalion Sikh regiment means that 8 Sikhs were already in the base. They had already lost approximately 25 men in the Tiger Battle[3].
He said, "I tasked 18 Grenadiers with capturing Tiger Hill Top with their Ghatak Platoon and other companies from the south-west and east. I had warned the commanding officer of 8 Sikh to keep around 50 personnel with two officers ready to be launched on the south-western ridge line to prevent any reinforcements/counter-attack on Tiger Hill Top.[3]"
Captain Balwan Singh with 18 Grenadiers of his "Ghatak Platoon" managed to catch the Tiger Hill Top on 4th July 1999. However, the battle was continuous, he and other troops of 18 Grenadiers rushed[3].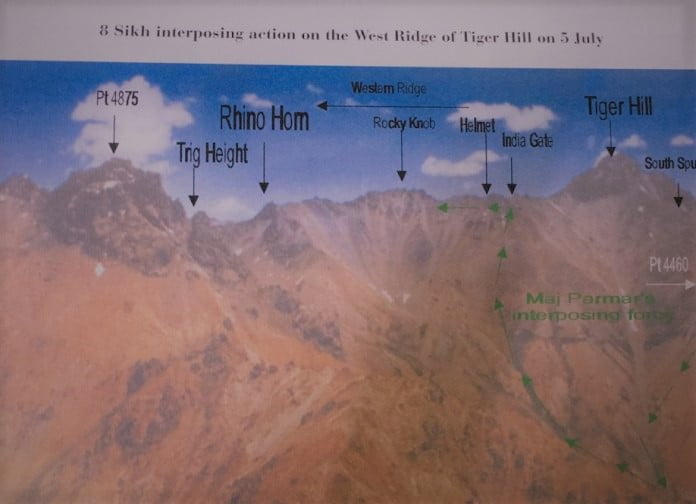 He Said, "Meanwhile, apprehending a likely counter-attack from the south-western ridgeline, I ordered 8 Sikh, comprising of 52 personnel — two officers, four junior commissioned officers (JCOs) and 46 soldiers — to capture (the features code-named) 'India Gate' and 'Helmet',[3]"
"To avoid observation in daylight and the enemy's intense artillery and other fire, 8 Sikh followed a dry nala and were in position after capturing two enemy posts by the first light of 5 July.[3]"
Sher khan Counter Attack:
Radio was stopped at that time and Sher Khan did a Counter Attack. The next morning about 6:45 AM, the first attack was by the weak platoon of 20 twenty men of which 8 eight were already martyr by the Sikh[3].
Bajwa said, more attack will support already by the large-caliber guns fire "But subsequently, a fierce attack led by two Pakistani officers (later identified as Captain Khan of the 12 Northern Light Infantry and Major Iqbal of the Special Service Group) killed three JCOs," [3].
Due to this, the Indian army had to empty that area to another area with their new location[3].
M.P.S Bajwa said "At one time, a situation arose wherein we had both our officers wounded, with three and 15 soldier's death, besides 18 soldiers injured,"[3].
At that point, Indian Bajwa and his soldiers coming towards Pakistani Platoon of which Karnal Sher Khan was leading. Sher was motivating his soldiers and the remaining troops. Bajwa thought that the leading Captian Sher Khan should be killed, and gave the directions to the troops[3].
Sepoy Singh and two other soldiers killed the leading Soldier Karnal Sher Khan about the distance from 10 yards[3].
"The battle of Tiger Hill was thus won. We buried 30 enemy's dead. I, thereafter, through civilian porters, got Captain Khan's body down from Tiger Hill. After a search, we found letters written by his wife in Urdu. The Captain had really fought bravely," Bajwa said[3].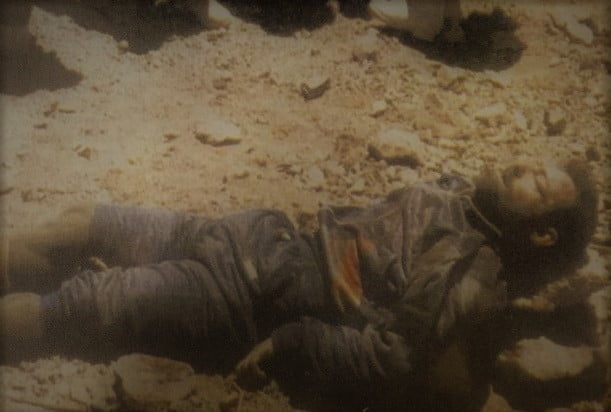 Before his body dispatch to Delhi, he told Sher Khan's bravery and commanding, and place a small citation letter of appreciation. Captain Khan had greatly fought against the Indian soldiers[3].
Bajwa said; "A piece of paper with a hand-written citation was placed in his pocket. Initially, Pakistan refused to take his body, saying that their soldiers had never fought, but later the body was accepted,"[3].
"This was the heartbreaking news that Karnal Sher Khan was awarded by the Nishan-e-Haider. I received a letter of thanks to the Indian Army from his father.[3]"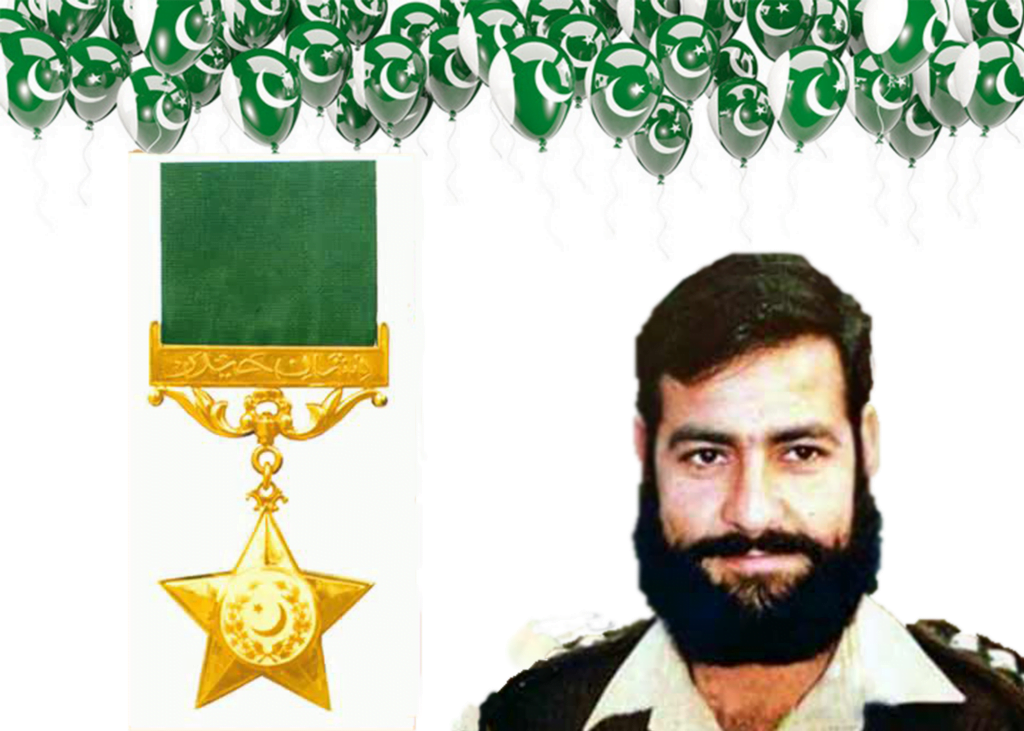 Legacy:
Karnal Sher Khan's home town was renamed and the new name "Karnal Sher Khan Kallay". A tomb was built in his town and his body laid at there for always. Every year the official prayer from the Pakistani Army prayed on the tomb of Karnal Sher Khan[1].
A Cadet College has been built in the Village Ismaila near the former town of Sher Khan Shaheed. It is built on the main road of Mardan-Noshehra on the Motorway interchange[1].
References:

1. wikipedia. 15th July 2020; Available from: https://en.wikipedia.org/wiki/Karnal_Sher_Khan.

2. hamariweb, 15th July 2020; Available from: https://hamariweb.com/articles/17482

3. theprint, 15th July 2020; Available from: https://theprint.in/defence/how-an-indian-officer-helped-an-enemy-captain-win-pakistans-highest-gallantry-award/266973/

4. pakistanarmy, Karnal Sher Khan Shaheed. 15th July 2020; Available from: https://pakistanarmy.gov.pk/Captain-Karnal-Sher-Khan.php

"article">