Early Life:
Malik Meraj Khalid was born on 1 February 1916 Dera Chahal, a small village near Burki district Lahore, Punjab, British India and belongs to a very poor farming family. During his early course of events, he found his family struggle with hardship to survive in the feudalism spectrum where his family grew crops for a local feudal lord who paid less than the minimum campaigns set by the British Indian Empire government. However, Meraj Khalid did not sentiment to abandon his school, and with the hardship.
| | |
| --- | --- |
| Born | 1 February 1916 Dera Chahal, Punjab |
| Political party | Pakistan Peoples Party |
| Alma mater | Islamia College, Lahore |
| Age | 87 |
| Died | 13 June 2003 Lahore, Punjab, Pakistan |
| Chief Minister of Punjab | 2 May 1972 – 12 November 1973 |
| Governor | Ghulam Mustafa Khan |
| Preceded by | Abdul Hamid Khan Dasti |
| Succeeded | Ghulam Mustafa Khan |
| Law Minister of Pakistan | 13 November 1973 – 20 March 1977 |
| Preceded by | Meraj Muhammad Khan |
| Succeeded by | Abdul Hafiz Pirzada |
| 10th Speaker of the National Assembly | 27 March 1977 – 5 July 1977 |
| Deputy | Abul Fateh |
| Preceded by | Sahibzada Farooq Ali |
| Succeeded by | Fakhar Imam |
| 13th Speaker of the National Assembly | 3 December 1988 – 4 November 1990 |
| Deputy | Ashraf Khatoon Abbasi |
| Preceded by | Hamid Nasir Chattha |
| Succeeded by | Gohar Ayub Khan |
| Prime Minister of Pakistan Caretaker | 5 November 1996 – 17 February 1997 |
| President | Farooq Leghari |
| Preceded by | Benazir Bhutto |
| Succeeded by | Muhammad Nawaz Sharif |
BASIC BIOGRAPHY
Period of Education:
Khalid completed his high-school education and later move on to work for a feudal lord who agreed to finance his education. He was educated at Islamia College, Lahore, and gained an LLB degree in 1944, from Punjab University Law College, later followed by an Associate degree in public works. In 1948, he began a law practice.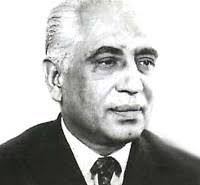 Career kickoff:
A left-wing player was elected to the Provincial Assembly of West Pakistan in 1965. He found the PPP in 1967 and filled the most important public offices. In 1968, he was selected as President of its Lahore chapter. Due to the Pakistan people's party ticket that he was successfully re-elected as a member of the National Assembly of Pakistan in 1970. His archetype public work, tempted by the socialist literature written in the Soviet Union, was aimed to appreciate literacy in his native village. Also responsible for governing the Province of Punjab after the 1971 war with India. After that Meraj was succeeded as law minister in 1974, and also the National Assembly Speaker in two non-consecutive terms.
Leadership:
Malik Meraj Khalid was a fighter of Zulfiqar Ali Bhutto, Pakistan's splashy PM during the 1970s, known for his gentleness and integrity. He was first Food and Agriculture and Under-Developed Areas Minister in December 1971. Malik Meraj was later Head of Legislative Affairs of the Party in November 1972 and also Minister of Social Services, Local Government, and Rural Development in 1975.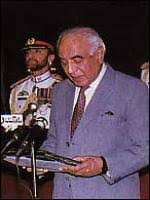 National Assembly spokesman:
He came to power as a member of the PPP's Central Committee after the execution of Zulfiqar Ali Bhutto in April 1979. But finally resigned from this position in January 1988 and returned to the National Assembly in 1988. He was again gain a name in 1988 as Speaker of the National Assembly.
Caretaker Prime Minister:
Malik's hard ideas led to developing political differences with Benazir Bhutto in the 1990s and was fired by Prime Minister Benazir Bhutto in 1996 after applying the accusations against Asif Zardari for the murder of Murtaza Bhutto. In November 1996, President Farooq Leghari expelled the government of Benazir Bhutto using the power given him by the Eighth Amendment to the Constitution of Pakistan. Until the new elections, Malik Meraj Khalid was asked to officiate the provisional administration. Malik Meraj Khalid was former caretaker prime minister. He was disheartened by Benazir's decision, Meraj Khalid worked on rousing the anti-Benazir Bhutto forces and start contributing with Nawaz Sharif resulting in victory in the 1997 parliamentary elections.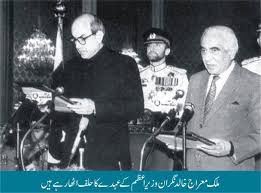 Died:
The willing person MALIK MERAJ KHALID passed away on 13 June 2003 at age 87 in his residence in Lahore. He was buried in a local cemetery.
References:
https://en.wikipedia.org/wiki/Malik_Meraj_Khalid#:~:text=Malik%20Meraj%20Khalid%20(Urdu%3A%20%D9%85%D9%84%DA%A9,November%201996%20until%20February%201997
https://www.theguardian.com/news/2003/jul/31/guardianobituaries.pakistan
"article">